She walked around South Korea and wrote more than 40 books. Ms Jung Eun Sook, a traveling writer living in Seoul, continues writing vigorously. Tokyo's first talk event "20 years' drinking and walking, all over Korea" was held in Iidabashi on Saturday, April 21, celebrating the 20th anniversary of her writing, with about 70 readers.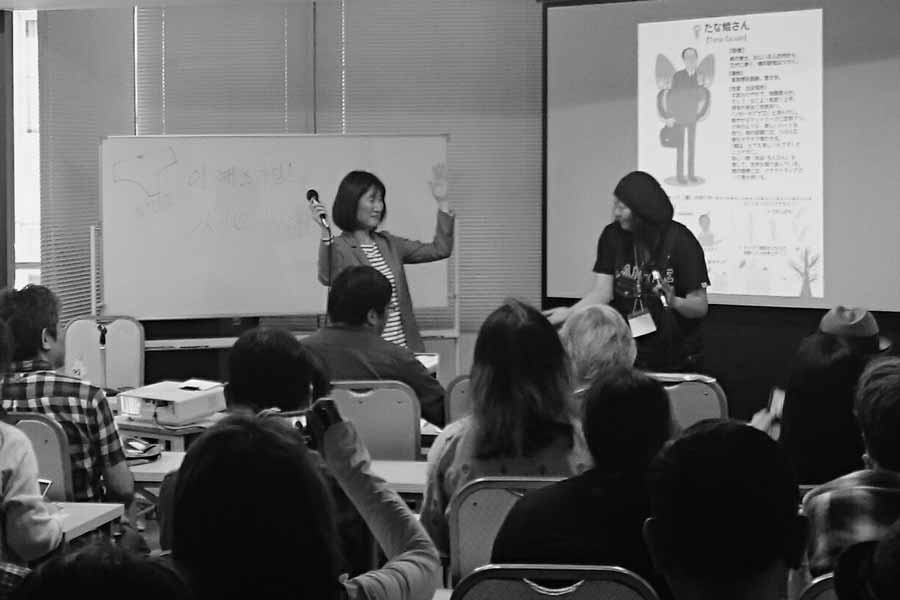 "If you have delicious makgeolli, I go anywhere and come in." Speaking of so, Ms Jung is synonymous with a trip to the bar. What she spoke at the beginning was unexpectedly her roots: her two hometowns that I visited in coverage. Her father's hometown Gwangju, which is drawing a lot of attention with the big hit movie "Taxi driver: promise is beyond the sea". Known as the site of the democratization campaign, the place is a bit hard for tourists to enter, but she says it is a town with a humanity that the movie symbolizes. It is the mother's hometown as well.
Ms Jung thought of North Korea before the division and touched the complex feelings. Every time the administration changes, the relationship between the North and the South has changed, and the public has been trifled. She hopes the era will come when you can "travel freely," with a piece of photograph when she visited Gaeseong where one cannot easily come and go anymore. Her traveling talk started by visiting two places that are her origins and the driving force of writing, visiting all over Korea.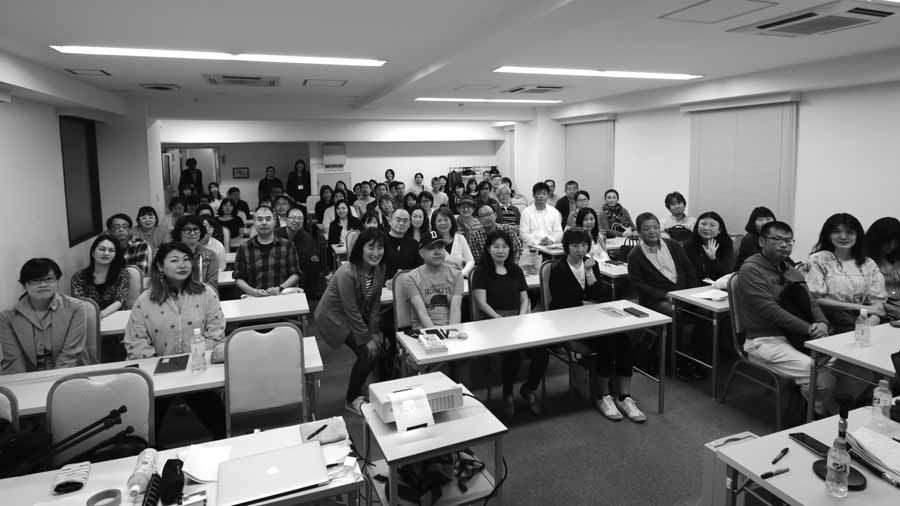 In Part 1 (from 12:15 for 100 minutes), her talk was developed with ten books as subjects. In the latter half of the 1990s when Ms Jung began writing, it overlapped when Japanese culture was lifted in Seoul. Although it is neighbored but unfamiliar to both sides, many people gathered saying "NHK of Japan came in!" when hearing that it was an interview of a book to be published in Japan. It was in 2007 when she wrote her masterpiece "Makgeolli 's Journey". In those days in South Korea, the makgeolli was outdated liquor. She was going around the breweries in various places; there were occasions when she got bothered by unrelenting words saying "I just brew because it is a rural area. Drink one and just go home." However, in 2010, when a big makgeolli boom happened in South Korea, everything changed completely. It was also boosted by the Korean boom in Japan. With "Korean Tavern Travel" published in 2012, we were able to cover breweries brewed in unique ways such as stressing yeast or letting it listen to music during fermentation. Stories behind the scenes reflecting signs of the times were also shown one after another.
In Part 2 (from 14:40 for100 minutes), tavern scenes was introduced with images, entitled "Korean movie "Tavern" best scenes that made us want to drink makgeolli or Soju. In "Misdialed bullets" (1961) which depicted South Korea after the Korean War, the scene of a standing drinking bar which is rare in modern Korea appears. Also, in the 1980's when "whaling" was aired, the scene of a tavern that many houses were often used as drinking houses. Furthermore, from "Meet in the international market"(2014), the hit movie boasting the second largest number of audience in Korea, the scene of an open outdoor tavern on Busan's coast was introduced. Participants listened attentively to the history of tavern culture through movies reflecting periodicity and rationality dramatically.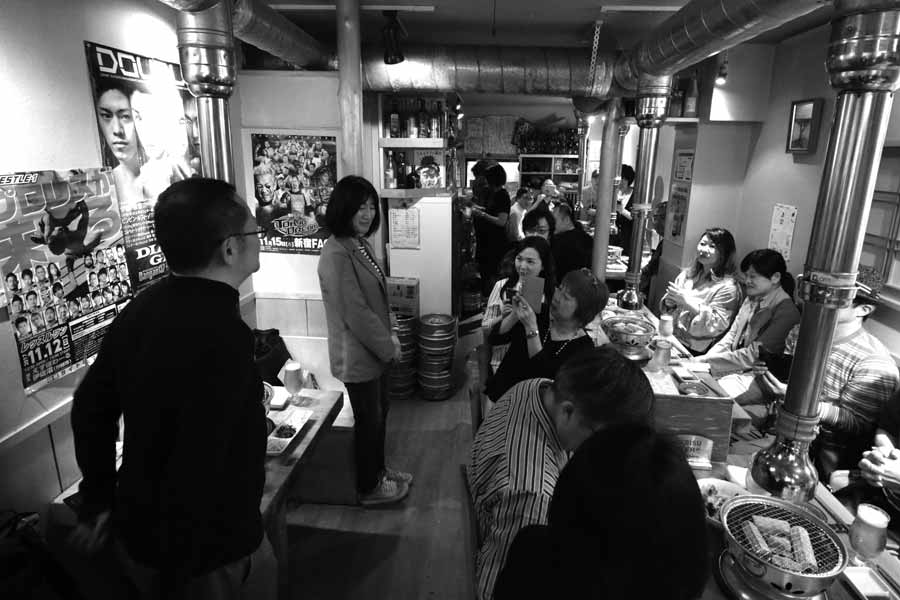 Over parts 1 and 2, images and episodes of liquor, side dishes and taverns were caught everywhere. By the end of the talk the participants' "drinking heat" peaked. While excitement still not chilled, the second party was held after moving to the venue to the barbeque restaurant "SANKYU" in Oyama, Itabashi-ku. Ms Jung herself picked up the makgeolli while walking around each table and deepening friendship, the Korean taverns night continued to rise successfully.
Coverage / written by:Yumiko Uji(宇治有美子)